Limink Al Alloy Portable Triple Monitor (LK14) review
At a glance
Expert's Rating
Pros
Adds two 14-inch screens
Portable
Easy setup
Our Verdict
If you need a portable mulri-screen solution that's perfect for video conferencing or multiple application work, the Limink LK14 is a premium, neat and easy-to-use, if pricey, solution for laptops.
Price When Reviewed
$699.99
Best Prices Today: Limink LK14 Al Alloy Portable Triple Monitor
While it is easy to connect external displays to your MacBook for expanded desk-based screen space, you can't easily take this set up on the road with you or pack it neatly away in a drawer.
The Limink Al Alloy Portable Triple Monitor (LK14) is a foldable package weighing 3.3lb (1.5kg) that physically attaches to your MacBook to add a 14-inch 1080p HD screen to each side of the laptop screen.
Design
We've tested some screen extenders that hang off one side of the laptop and look rather strange and lopsided, like a motorbike with a dangling sidecar.
The LK14 is a much more symmetrical screen setup and looks impressive sat next to a standard one-screen MacBook. The aluminum looks don't detract from the Apple aesthetic, and the whole package is not as heavy or bulky as you might expect.
The second and third screens measure 14 inches diagonally, and the system is compatible with 13-inch to 16-inch MacBooks. I tested it with a 14-inch MacBook Pro.
Attaching the screens is easy. Simply unfold the screens, rotate a couple of metal clips at the top, pull a ring to force the stand to expand to fit the laptop screen, and snap into place.
Then connect the required cables from the MacBook to each screen.
Foundry
Finally, go into your System Settings>Displays to arrange the screens in the right order and set the resolution of each screen.
if you want the three screens to flow seamlessly together, you'll need to make sure they are not set as separate Spaces; see our guide to how to set up two Mac monitors as a single screen.
The LK14 comes with a bunch of cables: two USB-C to USB-C, and two HDMI to Mini HDMI cables. There are also USB-C to USB-A cables in case you need to power the screens with a source other than the laptop but MacBooks with three Thunderbolt ports should be fine with connecting just via USB-C, leaving on Thunderbolt port on the laptop free for power or a docking station.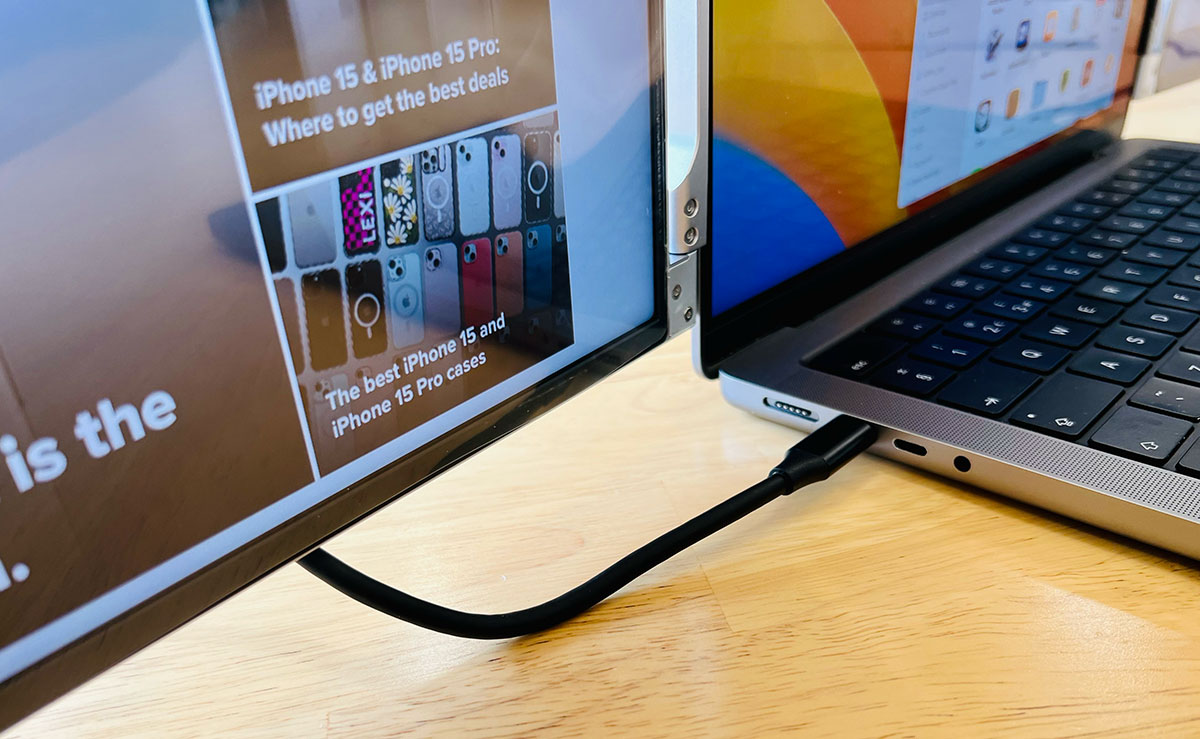 Foundry
The USB-C cables are over 1m long and therefore hang around the back of the screens—they don't get in the way but could surely have been shorter to reduce albeit unseen clutter.
The stand is adjustable and reasonably firm. I preferred to use my laptop stand, and the LK14 didn't unbalance when atop it.
After use, the MacBook can be quickly released, and the LK14 easily folded up and put away. It even comes with an attractive leather protection cover.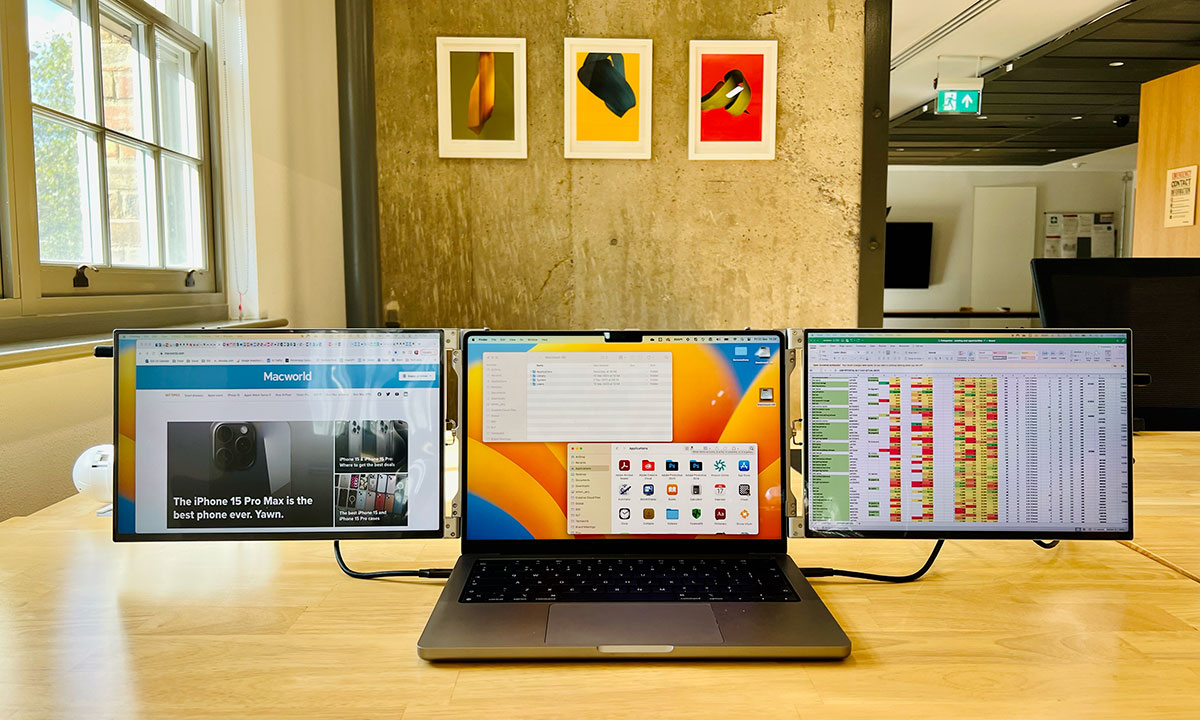 Foundry
Performance
The screens are not as sharp and clear as the MacBook's own—available resolutions range from 960×540, 1920×1080, 1600×900 or 1280×720 at 60Hz—but are better than some other rival portable screens we have tested.
The 14-inch size is enough to host even quite dense spreadsheets, browser windows or other applications.
Using the LK14 setup during a video call is a great use case. Leave the MacBook's screen for the Zoom/Teams/Google Meet window and you can keep supporting apps open wither side.
Foundry
You can control the Brightness, Contrast, Black Level, ECO (Standard, Games, Movie or Text modes), DCR (Dynamic Contrast Ratio), image aspect ration, color temperature, language, Signal Source, Low Blue Light and Freesync via a small wheel at the top of each external screen.
Each extra screen has a brightness of 350-400 nits, compared to the peak MacBook brightness of 500 nits for standard SDR content.
Like an external display, you can set the extra screens to either mirror your laptop's screen or extend it for extra real estate. For example, in Slide Show mode presentations can be split across the two screens—one showing the full-screen slides and the other for the presenter with the next slide and notes. Just click Swap Displays in PowerPoint, depending on how you want it.
Price and availability
The Limink Al Alloy Portable Triple Monitor (LK14) is available in the U.S. and Canada at $699.99, and fits 13-, 14-, 15- and i6-inch laptops.
Plain non-Pro/Max M1 and M2 Macs are limited to connecting just a single monitor but you can connect two displays to an M1 or M2 Mac with some software and hardware solutions if you want to use the LK14 with M1/M2 MacBooks.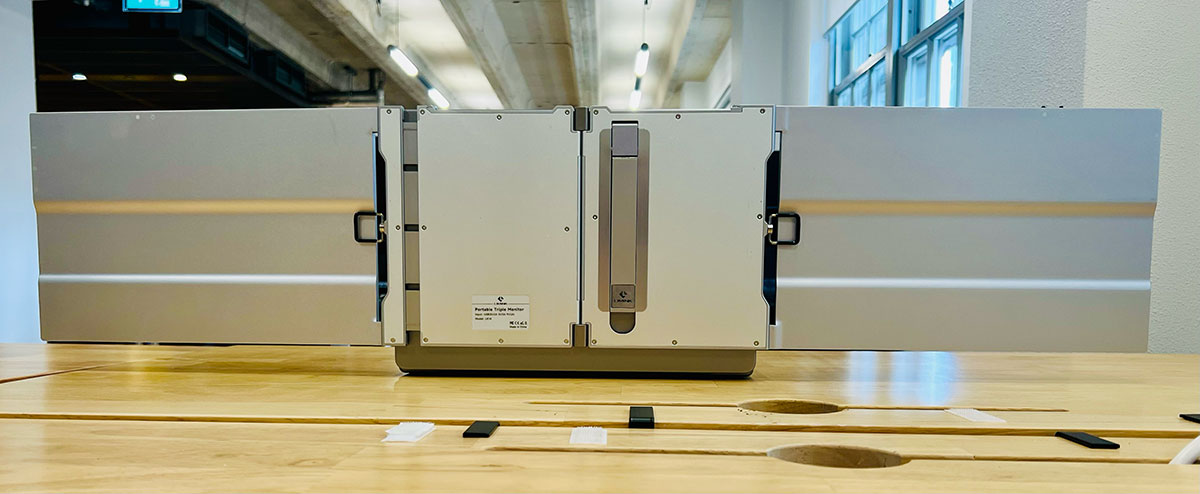 Foundry
Should you buy the Limink Al Alloy Portable Triple Monitor (LK14)?
It's not a cheap accessory but having the option of two HD screens added to your MacBook's integrated screen offers multitasking functionality on a grand scale.
While a a desktop solution with larger external displays offers far greater screen-estate potential, the LK15 can be attached and detached with ease and stored away when not in use.
If you want a permanent large screen at home or in the office, buy a bigger external display. See our recommended best monitors for Mac.
But if you need a more portable solution that's perfect for video conferencing or multiple application work, the Limink LK14 is a premium, neat and easy-to-use, if pricey, solution.