iPhone 15 vs. iPhone 13: Is it time to upgrade?
Only the lucky few are able to upgrade their iPhones on a yearly basis. For most of us, a more realistic ambition is to buy a new handset every two or three years; that way, aside from the more manageable cost, you get multiple sets of upgrades at once, and the improvements are far more noticeable. So this year's announcement of the iPhone 15 refresh may be of more interest to those who own an iPhone 13 from 2021 than those with an iPhone 14.
With that in mind, we've put together an easy-to-understand comparison of the standard iPhone 15 with its equivalent from the 13-series generation. We compare their tech specs and performance and examine the design changes that have been added since 2021, to help you decide which is right for you. We also offer guidance on whether now is the time to upgrade, or whether you should wait for the iPhone 16 in 2024.
iPhone 15 vs. iPhone 13: Tech specs
iPhone 13
iPhone 15
Dimensions
5.78 x 2.82 x 0.3 inches (146.7 x 71.5 x 7.65mm)
5.81 x 2.82 x 0.31 inches (147.6 x 71.6 x 7.8mm)
Weight
6.14 ounces (174 grams)
6.02 ounces (171 grams)
Display
6.1-inch 2532×1170 460ppi Super Retina XDR OLED display; 1,200 nits peak brightness (HDR)
6.1-inch 2556×1179 460ppi Super Retina XDR OLED display; 1,600/2,000 nits peak brightness (HDR/outdoor); Dynamic Island
Processor
A15 Bionic
(6-core CPU, 4-core GPU)
A16 Bionic
(6-core CPU, 5-core GPU)
Rear camera
Dual 12MP f/1.6 Main, 12MP f/2.4 Ultra Wide; .5X and 1X zoom, Smart HDR 3
Dual 48MP f/1.6 Main, 12MP f/2.4 Ultra Wide; .5X, 1X, and 2X zoom; Smart HDR 5
Front camera
12MP f/2.2
12MP f/1.9
Charging
Lightning
USB-C
Storage
128/256/512GB
128/256/512GB
Est. battery life
Up to 19 hours video playback
Up to 19 hours of video playback
Charging
Fast charge: Up to 50% charge in 30 minutes with 20W adapter
Fast charge: Up to 50% charge in 30 minutes with 20W adapter
Wireless
Wi‑Fi 6, Bluetooth 5.0, 5G
Wi‑Fi 6, Bluetooth 5.3, 5G
Across a two-generation gap, you might expect some major changes in the tech specs of these two handsets. But this is complicated by the fact that in 2022, Apple instigated a policy of aggressively pushing customers towards its Pro iPhones, which meant that the iPhone 14 got a weaker and older processor than the 14 Pro. That policy continued in 2023, with the result that the iPhone 15 has a processor chip (the A16 Bionic) that is one generation newer than the A15 Bionic in the iPhone 13, not two. In other words, while the iPhone 15 is certainly faster than the iPhone 13, don't expect earth-shattering improvements.
Battery life is likely to be around an hour longer with the 15, you get Bluetooth 5.3 (which is somewhat more efficient) instead of 5.0, and the USB-C port means you can use the same cable to charge your iPhone, iPad, and Mac.
Dominik Tomaszewski / Foundry
iPhone 15 vs. iPhone 13: Design & build
At first glance the iPhone 13 and iPhone 15 look very similar (the dimensions are virtually identical), and it's true that Apple hasn't made any radical design changes in recent years. But there are physical differences worth knowing about.
Display
The most obvious external difference between these two devices relates to the cutout at the top of the screen. The iPhone 13 has a notch; the iPhone 15 gets the newer Dynamic Island.
These two design elements are there for the same reason: to accommodate the front-facing cameras and facial-recognition sensors. And it could be argued that they bring similar drawbacks, namely that a small but quite prominent section of your screen is unavailable. The Dynamic Island is a little smaller, granted, but it's not like the thin strip of screen above it is going to make all the difference when you're watching a TV show on your phone.
But there's more to it than that. The notch is essentially dead screen real estate: a small area that remains featureless and black no matter what's happening on the rest of the display. But the Dynamic Island, as the marketing language attempts to convey, can do things: it shows notifications when you connect an accessory or battery power is low, indicates any songs or podcasts that are currently playing and can even display live information related to timers, map directions, or the score of current sports games. (Here's a list of Dynamic Island functions as of the iPhone 14's launch last year; more were added with the iOS 17 software update this fall.) This involves a certain degree of sleight of hand since the island also contains pixel-less areas for the sensor apertures, but by making it expand and contract in neat animations Apple's software does a clever job of utilizing the dead space as valuable real estate.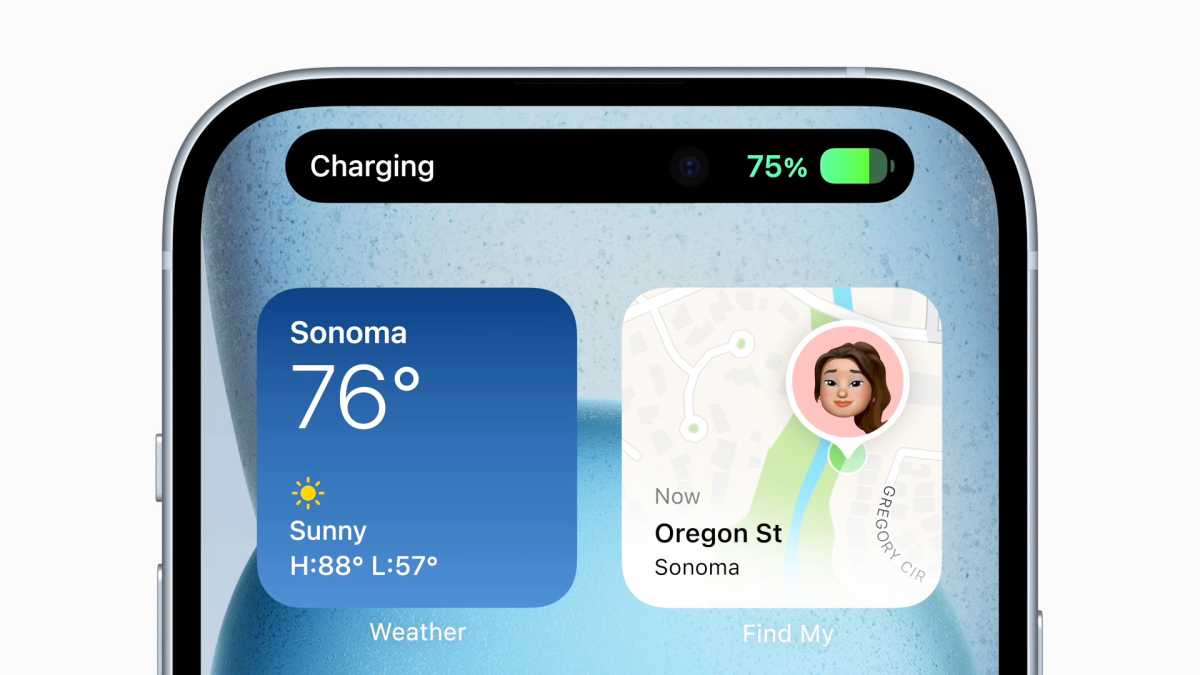 Apple
The screens are otherwise very similar, with virtually identical sizes and resolutions. The iPhone 15 has a brighter screen, however, going all the way up to 2,000 nits when in bright sunlight.
Colors
Here's a superficial but still valid point of difference: the two phone generations come in different colors.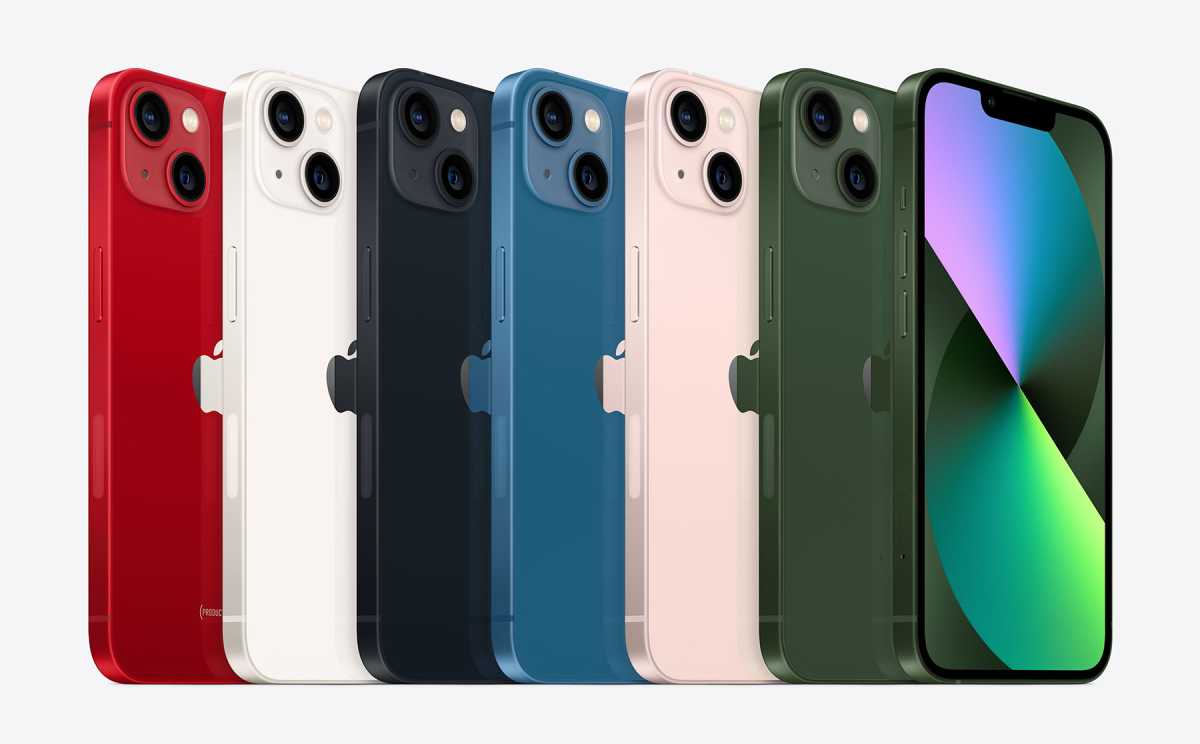 Apple
Both are available in black and pale pink, but the 13 gets dark green, dark blue, bright red, and white. The iPhone 15 gets yellow, green, and blue, but all three are extremely pale. It comes down to preference, of course, but since most people will put it in a case anyway, the color shouldn't really factor into your decision.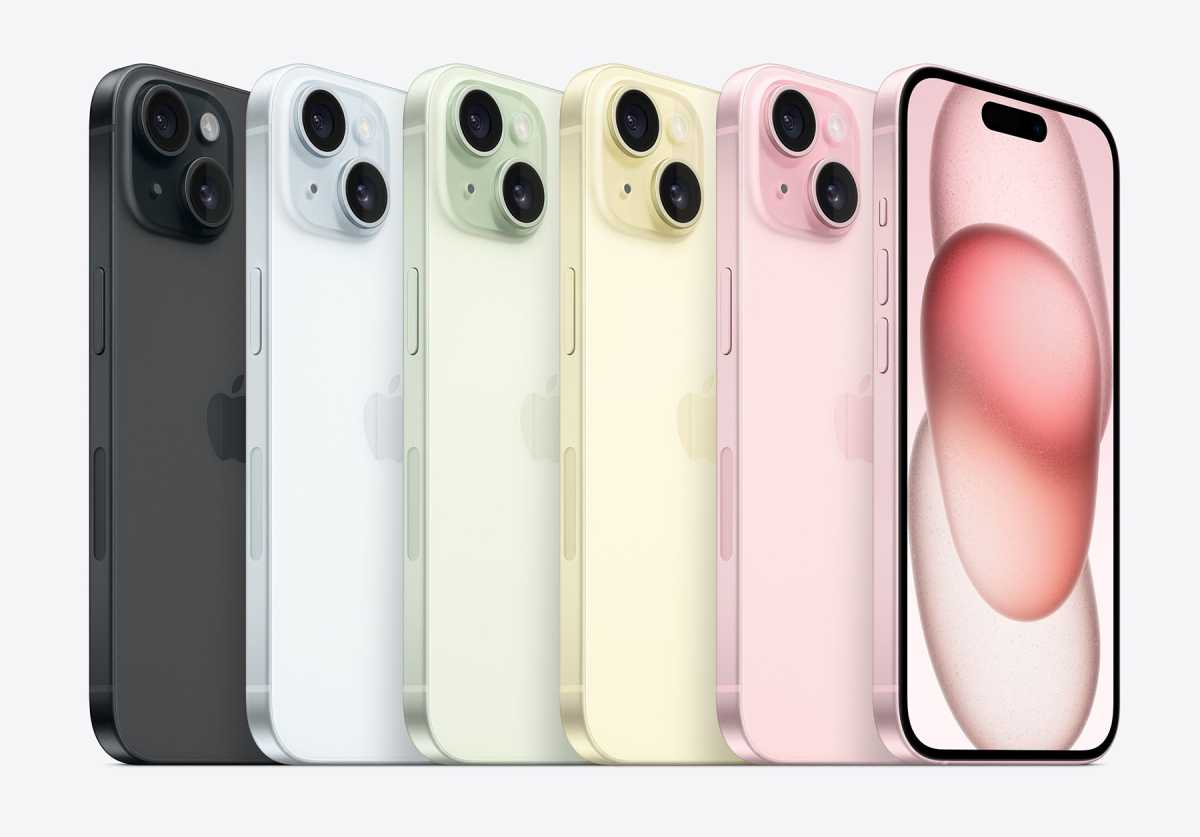 Apple
iPhone 15 vs. iPhone 13: Camera
The iPhone 13 has a very serviceable camera setup, with twin 12MP lenses on the rear (with flash). The iPhone 15 also has a dual-camera setup, but the main camera has been upgraded to a 48MP f/1.6 sensor. Both phones have the same and a single 12MP front camera.
On the surface, the two phones offer many of the same features: Smart HDR (4 on the iPhone 13 vs 5 on the iPhone 15), portrait mode, night mode, 4K video recording, and more. In normal shooting conditions, neither will let you down when you need a quick shot. And with Smart HDR and night mode, you should do fine even when things become more difficult.
But the iPhone 15 is a bigger upgrade than its similar design indicates. Aside from upgraded hardware, it also has a few camera features that the 13 doesn't. With the extra 36MP in the main lens, you'll take super-high resolution photos, and Apple is also able to use the extra megapixels to bring 2X optical-quality zoom to the non-Pro iPhone for the first time. The megapixel increase won't radically alter the quality of your shots, which should be OK with the 13, but the zoom could be a gamechanger.
One is what Apple calls "next-generation portraits." This is similar to the portrait mode on the 13, which uses two lenses to separate the subject and background and generate an artistic bokeh blurring effect but is smarter about doing so. The iPhone will automatically detect people (or dogs or cats) in the frame, and capture depth information without being told to, which means you can "bokeh-fy" the picture later on, including switching the focus from one person to another.
Another is called Action mode, which was actually added on the iPhone 14 but remains this year. Action mode applies heavy video stabilization in extremely unsteady situations: when you're running, for example, or on a boat. There's a special button in the Camera app (when shooting video) that you use to enable it.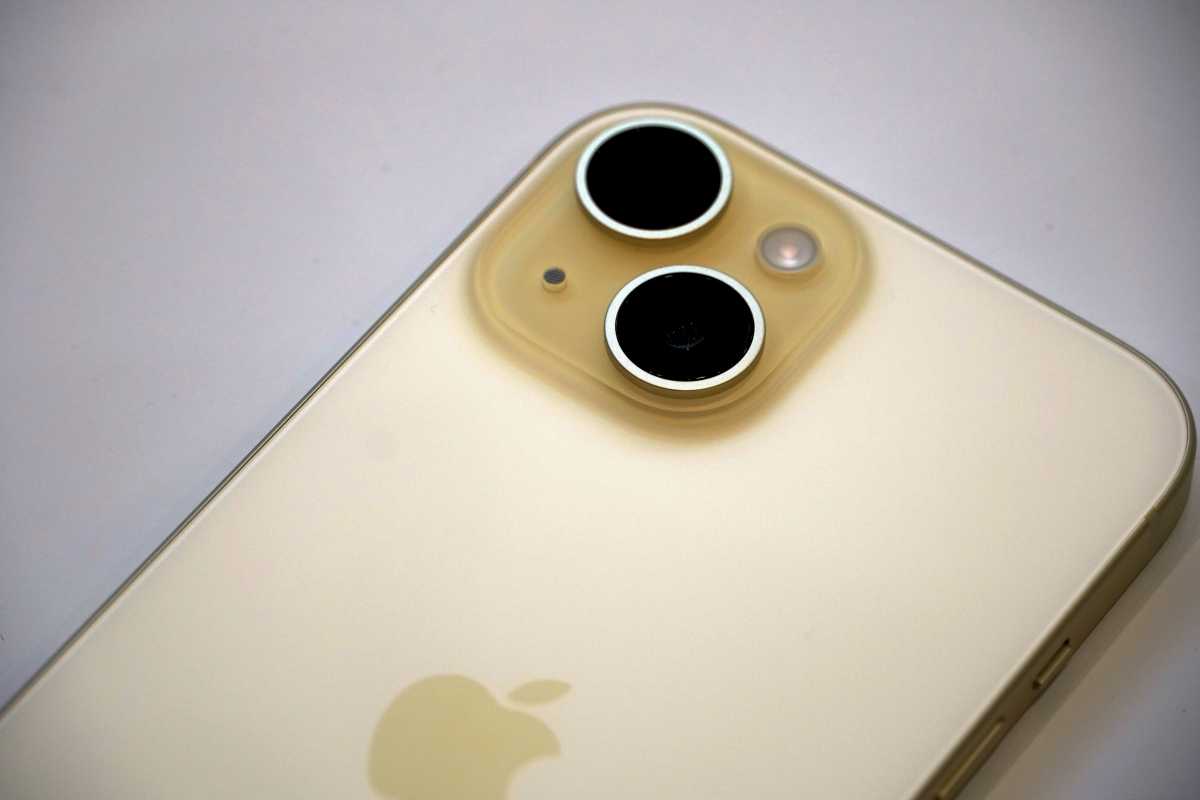 Jason Snell
iPhone 15 vs. iPhone 13: Emergency safety features
When the iPhone 14 was launched in 2022, Apple announced a raft of new safety features, including crash detection and Emergency SOS via satellite. (Needless to say, the iPhone 15 gets these too.) This year it added another, Roadside Assistance via satellite, which was added in the iOS 17 software update and applies to the iPhone 14 and iPhone 15… but not the 13.
These are all features that you hope you'll never need but could save the day in an emergency. The satellite features are free for two years from the date of purchase but Apple hasn't said what they will cost after the free period.
iPhone 15 vs. iPhone 13: Price
Here are the prices of the two phones at the time of writing. (Needless to say, the iPhone 13 is cheaper now than when it launched in 2021.) Right now you stand to save $200 by going for the iPhone 13 rather than the equivalent iPhone 15 model.
iPhone 15 prices
128GB: $799 / £799 / AU$1,499
256GB: $899 / £899 / AU$1,699
512GB: $1,099 / £1,099 / AU$2,049
This close to launch you're unlikely to see significant savings from Apple's MSRP/RRP above, but other retailers will gradually start to chip away at the pricing:
iPhone 13 prices
128GB: $599 / £599 / AU$1,099
256GB: $699 / £699 / AU$1,299
512GB: $899 / £899 / AU$1,649
That's Apple's official pricing, at any rate, but you should be able to find it a little cheaper if you shop around other retailers:
iPhone 13 128GB – Red – Unlocked

$507.34
iPhone 13 128GB – Pink – Unlocked

$518.39
iPhone 15 vs. iPhone 13: Verdict
There are two separate questions here: Should a person who already owns an iPhone 13 upgrade to an iPhone 15? And which of these two iPhones is the wisest purchase for someone who currently owns an older phone? We'll address them in that order.
If you've got an iPhone 13, the iPhone 15 isn't going to rock your world all that much. Yes, you're getting two sets of upgrades at once, but given the cautious nature of both the 14- and 15-series refreshes, that still doesn't add up to a great deal of excitement.
There are lots of minor and iterative improvements, however, and you may feel that the cumulative effect is worth the money. You get an hour more of battery life (and probably more than that, if we take battery deterioration into account). The camera are is a bit better, the processor is measurably faster, the emergency safety features may offer some peace of mind, and USB-C is a long-overdue but welcome improvement. Perhaps most of all, the Dynamic Island is a much better way of disguising the front sensors than the notch and looks a lot cooler.
Overall, however, our advice would be to hold on to the iPhone 13 for another year and pick up the iPhone 16 in 2024. That probably won't be an especially exciting update either, but three years of upgrades should add up to a substantial improvement in your experience with the product.
But what of the newcomer who needs a phone right now, and is trying to decide between these two options? Again, the differences are not enormous, but neither is the difference in price. Instead of having to cough up a minimum of $799 to get the advantages of the 15, you're looking at an extra $200–and that's probably worth it, given that the 13 is already two years old and is likely to be five years old by the time you're looking to replace it. With its newer processor and support for USB-C, the iPhone 15 is far more future-proofed, and that's an important consideration if you plan to keep it for several years.